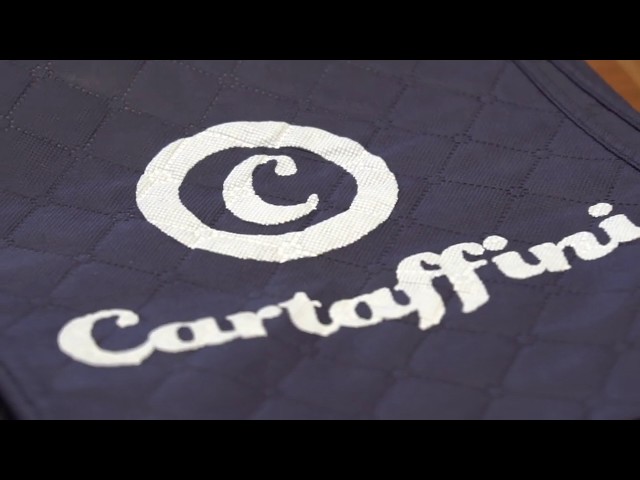 See how we manufacture our products
PLAY VIDEO
THIS IS US
Cartaffini Srl
Cartaffini is an Italian brand specialized in the design, production, and distribution of melamine tableware.
Since its foundation in 1955, in Verona, the company has chosen a totally Italian production, this constant has allowed the brand to maintain high quality, safety and manufacturing standards over time even in the current factory in Fossano (CN).
PRACTICALITY AND STYLE THAT LASTS OVER TIME
The main characteristics of Cartaffini crockery are the high resistance to impact and heat, a brilliant surface with stability of decorations and colors.
The extremely resistant product excels in reliability, stability and durability.
The design products are created for different areas: boating, children, collective catering and HO.RE.CA. Cartaffini is also able to create personalized crockery and counts illustrious design brands and leading shipping companies among its customers.
An integral part of the company are the commercial and logistic area which ensure a quick, flexible and reliable service.
All products meet the most restrictive food health and safety standards and are therefore extremely safe and reliable.
In line with a path of development and innovation, Cartaffini is moving today towards new application areas and new markets.
100% MADE IN ITALY
Passion for the environment
Since 1955 Cartaffini has been operating with responsibility towards its customers and the environment through constant research into the quality of materials and environmental sustainability.
The company acts in the field of catering by promoting the use of reusable tableware that allows an important reduction of waste, representing an eco-sustainable alternative to disposable tableware.
Further value is brought by the use of high quality Italian raw materials that guarantee long life for our products.
Quality is also synonymous with safety and reliability: strict compliance with current regulations is a cornerstone of our production.
Mission
A CUSTOMIZED AND FLEXIBLE SERVICE
The company ensures a quick, punctual, flexible and reliable service that goes from creative design to distribution, with the utmost attention to customer satisfaction. In this perspective, the development and implementation of customized projects are carried out on request. The suitability and reliability of the products is guaranteed by compliance with current EU and Italian regulations.
Cartaffini Srl has adopted a quality management system compliant with the standard: UNI EN ISO 9001: 2015
The place
Fossano it rises in a fertile plain at the foot of the mountains and a step away from the sea, in that province which for the vastness of its territories is called, in dialectal jargon, "granda": the province of Cuneo.
Would you like more information?
Don't waste time e request more information now
Always at your disposal
WHO LOVES
+39 0172 691908
Strada del Santuario, 120 - 12045 Fossano (CN)